Golfers / Classmates and Wives,

Thanks again to Dr. Samuel Mayeda and wife Linda, the classmates had a most enjoyable, relaxing, happy, invigorating, exhilarating, tasteful, comfortable, and classy, golf and 70th celebration at Sam's beautiful vacation home on Mariner's Ridge in Hawaii Kai. The food again was outstanding from appetizers to main course to desserts. The Mayedas provided everything from an array of dim sum selections, Japanese sushi bar entrees, Dr. Sam's barbecued chicken, steak and salmon skewers, a huge cooked and fresh vegetable selection, Dickie Lau's ceviche (raw fish or shell fish in Dickie's secret lime juice and white sauce marinade; see Dickie for recipe), Colin Leong's potato salad (secret recipe) and "to die for" cheese cake (secret recipe), local style pupus from the classmates, assorted desserts from the wives, and just a whole "Slew" of ono food and treats to defy the imagination. There was also an assortment of wines, beers, soft drinks and CHAMPAGNE from the Mayedas. It was a most enjoyable and refreshing experience.
Attending the gala were our hosts, Dr. Samuel Mayeda and wife Linda,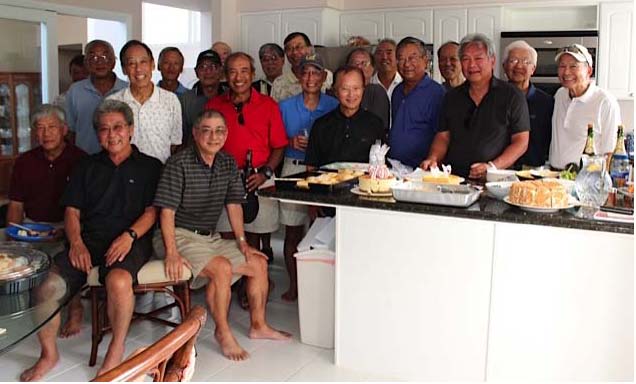 Milton and Joyce Tsuda, Mark Kaneshiro, Jimmy Hayakawa, Paul Chun, Rodney Asada, John Ishikawa,
Dr. Kenneal Chun and wife Lucille, Colin Leong, Walter Muraoka, Roland and Janice Chun,
Calvin Nakagawa, Alan Maii and son Michael Maii ('95 Iolani), Richard Kurashige, Conroy Chow,
Clifford You, Richard and Beryl Lau, Dr. Nathan Wong, Pat Tom, David Shiraishi and yours truly
and wife Laureen Kudo.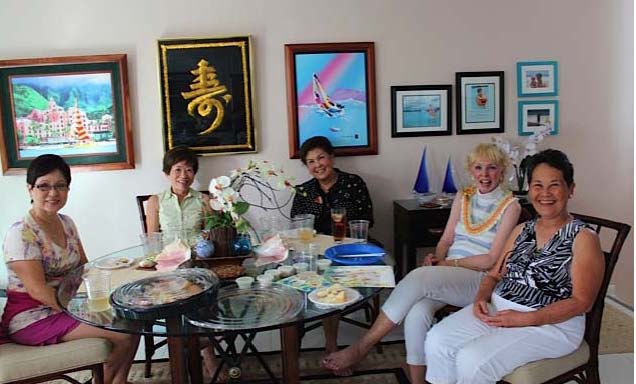 Enhancing the delicious food, the layout of the Mayeda's home was such that the views and areas to
wine and dine complemented each other to create a very relaxing and fresh ambiance. At the outside lanai, gently rising to the left of a serene garden area, Sam created another veranda type BBQ area with an attached dwelling with all the luxuries of the main living area. Comfortable, comfortable, comfortable! The views of the ocean and greenery were something to behold! Utter calm and relaxation in a beautiful setting. Thanks Sam.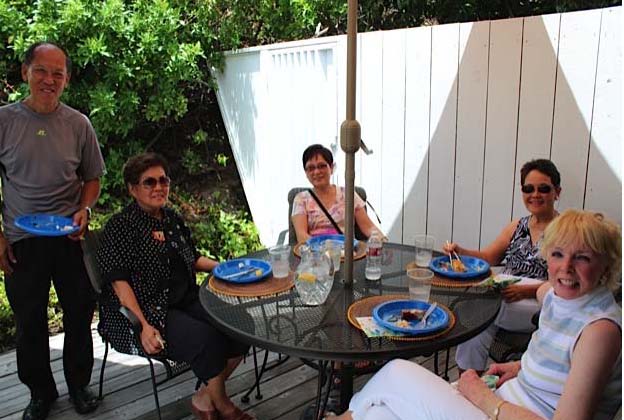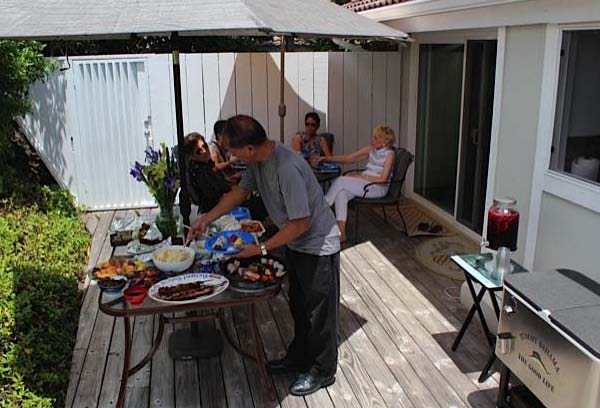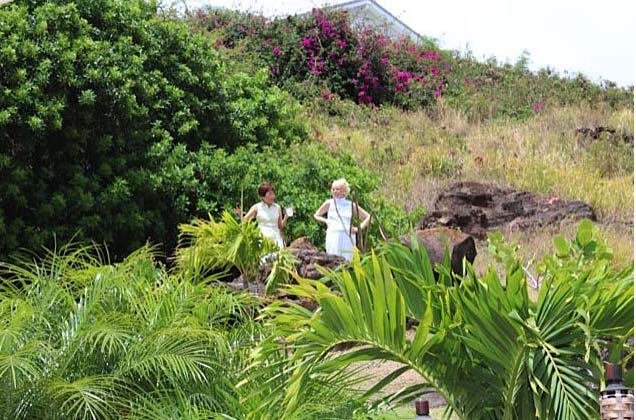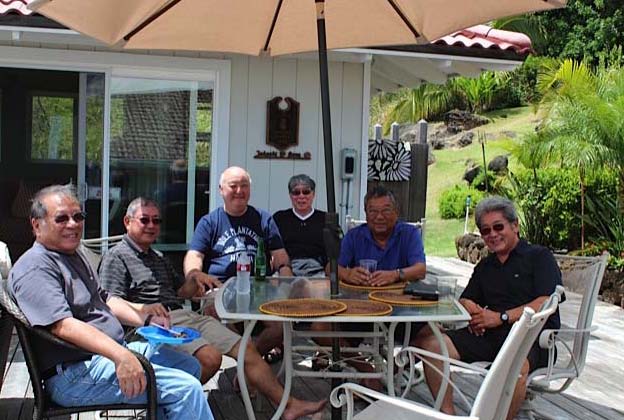 GOLF: The weather was cool and windy at Hawaii Kai Golf Course and the golfers had a great time! They included Rodney Asada, Dr. Nathan Wong, Richard Kurashige, Calvin Nakagawa, Paul Chun, Clifford You, Alan Maii, Michael Maii (Alan's son, '95), Colin Leong, John Ishikawa, Roland and Janice Chun, David Shiraishi, Conroy Chow and yours truly (Creighton). Golf game Winners were:
Low Net Winners: 1st: Roland Chun 2nd: Colin Leong
Greenie Winners: Janice Chun, David Shiraishi, Dr. Nathan Wong, and Michael Maii
Congrats to the winners. Roland and Janice Chun are the very consistent golfers and steady winners of our little contests. It's really good to see Roland returning to his former status. Colin also has improved immensely,...time surely makes a difference. David Shiraishi, finally one of the anchors, goes straight down the fairway with no fanfare; when he connects with his putting, he's hard to beat. Ishikawa has begun to score as he comes out more often, but his competitive side drives him to be even better......................If any of you wants to see a " beautiful ball " with picture perfect form (I'm not trying to embarrass you) it's got to be Dr. Nathan Wong. Considering his busy schedule, his picture perfect form and distance with a slight draw is awesome. Wait till he retires completely.

All in all, it was a lot of fun and amazing seeing some of the classmates make these "phenomenal" shots. If you only saw those single shots, you would think they were "scratch" golfers.

Anyway, we missed fellow golfers, Eddie Onouye and wife Carole, Karen Nakagawa, Steve Shibuya,
Charley Shimamoto, Mark Kaneshiro, Jimmy Hayakawa, Gordon Ito, Dwight Kealoha, Richard Ho, Joe
Davis (San Diego) and even those that don't golf. Everyone's invited to our get-togethers,..............Time permitting, please join the guys at our outings. They've been asking about all of you.............it would be nice to see all of you as we enjoy the " 70's SEVENTIES 70's ".

SIDE NOTES: Two days after the gathering, Dr. Nathan Wong performed at a Tai-Chi demonstration at the Kahala Mall under the direction of Lucille Chun (wife of Dr. Kenneal Chun) and he really looked smooth, and quite fluent, considering he just started and only practices on Mondays, time permitting.

Lucille and Dr. Kenneal have been doing Tai-Chi for quite a while and are very passionate about their "chosen discipline".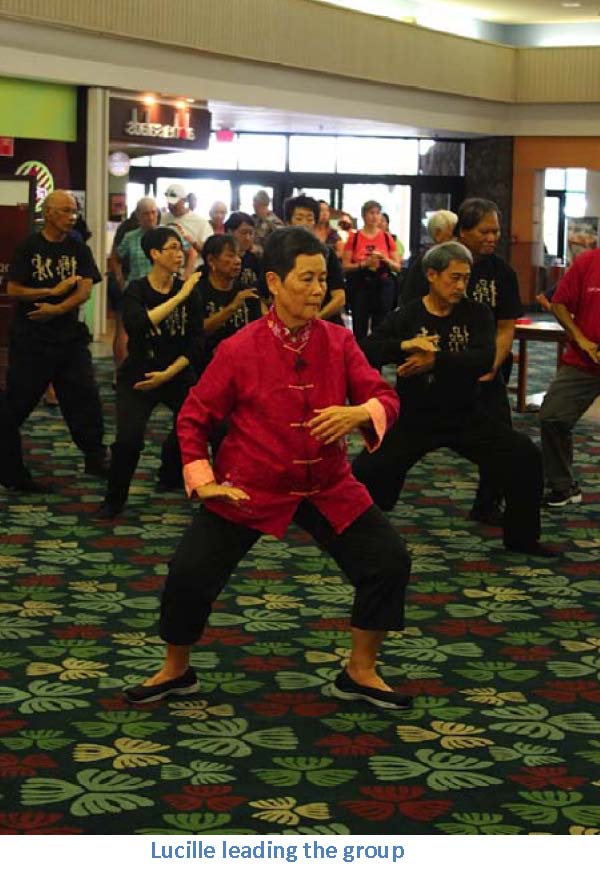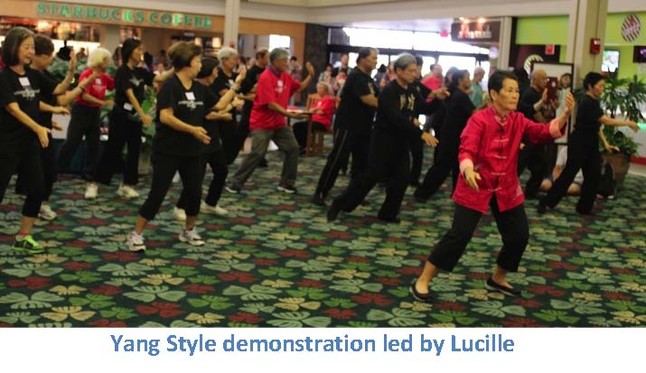 A few years ago, I was asked by one of the classmates, why do Tai-Chi. Although I'm not a practitioner of Tai-Chi,..... for us older guys, Tai-Chi's benefit is to lubricate the body's muscles. When the brain tells you to stand up or pick something up, if the body's parts are in condition, movement is done without pain and apprehension. Dr. Kenneal and Lucille will help you to be more flexible and will basically help you to lubricate your muscles and joints so you can function without pain. Supposedly, when the brain and body are functioning in harmony, everything else works to near perfection.
[ This has been a paid advertisement paid for by Dr Kenneal ]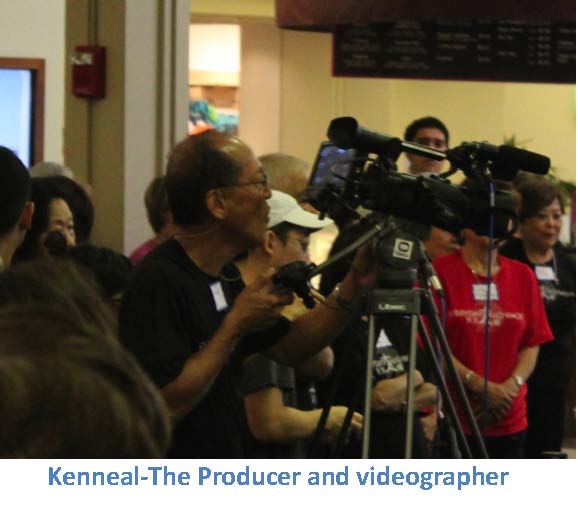 All kidding aside,......try it, it might facilitate the endless search for peace and comfort. Also privileged to see Lucille and Dr. Nathan perform on Saturday were Dickie Lau and Beryl, John Ishikawa, Laureen and myself, Conroy and Suzy Chow and Dr. Sam and Linda Mayeda. Quite a performance. Follow them at http://www.everydaytaichi.org.

Thanks again to the Mayedas for allowing us to celebrate our approaching the 70's in style !

Over the past few days, I've received seven emails and four phone calls regarding our get together. Every one enjoyed themselves, and a much deserved MAHALO to Pat Tom, Milton Tsuda, Rodney Asada, Dr. Kenneal Chun, Richard Lau, Colin Leong and especially Dr. Samuel Mayeda and Linda for their time and energy spent in having our celebration this past Thursday! Can't thank you guys enough! Mahalo.

THANKS AGAIN FROM ALL THE CLASSMATES !!!!!!!
Creighton