Last Update: 4/8/19
• Tai Chi at Kilauea District Park by everydaytaichi by lucy chun (Kenneal Chun '62).

everydaytaichi lucy's tai chi calendar

Come help celebrate our 6th Annual World Tai Chi Day at Kahala Mall
lucy and students will perform
Yang style tai chi in a one hour program in front of Starbucks and the Apple Store.
A FREE event!
May 4, 2019
Saturday
9-10AM
Lunch to follow

Spring 2019 Classes:
​15 week session
Level 1: Thursday, 9AM January 10-April 18
Level 2: Tuesday, 9AM January 8-April 16
Level 3: Thursday 10AM January 10-April 18

Registration:
Please register the first day of your class.
Send me an email if you have missed registration
everydaytaichi@gmail.com

(online lessons can be found here)

​Level 2 Yang 24 form
Tuesday 9AM Class

Level 1 Yang 10 form
Thursday 9AM Class

Level 3 Yang 16 form
Thursday 10AM Class

FREE Non-Instructional session throughout the year.
ALL can participate. No registration needed.
Mondays 9-10AM Aina Koa Park
Fridays 9-10AM Kilauea District Park
• Anyone interested in playing or LEARNING Mah Jong (Chinese), please call Colin, (808) 927-2325.
If enough people are interested, we will schedule sessions on a regular basis. A great way to "exercise" your brain and have fun, too.
• Congratulations to JOHN ISHIKAWA for completing the Honolulu Marathon this past weekend. (12/12/18)
• Welcome Home! ... to CLIFF TOKUMARU and his wife, Ruth, who moved backed to Honolulu after retiring from his dental practice on Maui They reside at:
15 Craigside
15 Craigside Place
Apt. 607
Honolulu 96817 (11/29/18)
• Reed Taylor writes: (11/26/18)
Hi guys--
Thought you'd be interested in an award I am receiving tomorrow for my teaching and organizing efforts since 'Iolani. The letter below was sent to my two daughters, Amy Nathan and Suzanne Bourdeaux (who was with me on my visit two years ago).
Aloha,
Reed
*******************
Dear Suzanne and Amy,
My name is Drew Beiter. I serve as the Executive Director of the Summer Institute for Human Rights and Genocide Studies of Buffalo, an organization that your amazing father Reed has supported and taken part in as a board member and participant. I write you today to share the great news that given your dad's immense influence on our lives, our Board of Directors has approved the "Reed Taylor Award for Excellence in Human Rights Education", which will be awarded annually to a teacher in the Buffalo area. We're delighted about this as we hope you are as well.
For the award's first year, we'd like to present it to him as its first recipient at our annual Conference for Educators held on Tuesday, November 27thhere in Buffalo at the Erie 1 BOCES Conference Center, located at 355 Harlem in West Seneca. Featuring a keynote address from the daughter of Robert F. Kennedy, Kerry Kennedy, the event is designed to help educators approach the most pressing issues of our day. We expect to have roughly 150 teachers present, which will be a great audience to celebrate your dad's incredible legacy. The event will also be highlighted by presentations by 2018 National Teacher of the Year Mandy Manning, Yemeni-American Activist Mokhtar Alkhanshali, as well as Artist Educator Shawn Harris.
The award will be presented to Reed in front of this audience from 11:30-11:45 AM that day by one of our staff and Mrs. Kennedy. Please feel free to be there as our guest for any or all of the day, for which the agenda and flyer are attached. After, we are looking forward to him giving a short acceptance speech. Likewise, if you are able, we'd also like to invite you and your dad to a dinner the night beforehand on Monday, November 26th for our speakers and the conference organizers, with a location and time TBA shortly. Please know that your families are welcome to join us for either of these events as well.
I have cc'd your dad above, as well as our Associate Director Lori Raybold who will be introducing him and the award that day.
Again, we think the world of your dad and are here because of him. If you have any questions, please feel free to contact me by my cell at 716-525-6058. We hope to see you then.
With friendship and warm regards,
Drew Andrew Beiter
Director, The Summer Institute for Human Rights & Genocide Studies of Buffalo
www.summerinstituteofbuffalo.org
Training the next generation of concerned citizens and educators
• 'Iolani Alumni are uniting to better their communities at the
9th Annual 'Iolani Community Action Network (ICAN) "One Day, One Team"
global day of alumni service.
Register today to make a difference in your neighborhood!.
https://mailchi.mp/iolani/iolani-alumni-want-to-make-a-difference-in-your-community-register-for-one-day-one-team-869325?e=7872326c31
• Condolences and Deepest Sympathy to the Milton Soo Family ...
Posted On August 15th, 2018 - Honolulu Star-Advertiser Obituaries
Age 78, of Honolulu, passed away on August 8, 2018 in Honolulu. She was born on August 30, 1939 in Honolulu. She is survived by her husband, Milton Soo; son, Gregory (Mijung) Jay; daughter, Lisa Jay; brother, David Yee; grandchild, Jay Spendlove. Visitation from 9:30am on Saturday, August 18, 2018 at Star of the Sea's Church. Mass at 10:30am. Arrangements Provided By: Nuuanu Memorial Park & Mortuary LLC.
• Congratulations to John Ishikawa on finishing ANOTHER Marathon. This time in Diluth, MN. Wow!
• Eddie Onouye writes:
... "Hey Colin, if you look at the attached article, you can see what I've been spending my time on for the past 9 years. Do you think any of the classmates might be interested in checking out our presentation to help their kids learn what we do so that they can pay off mortgage debt or car loans faster thank normal. Let me know your thoughts..."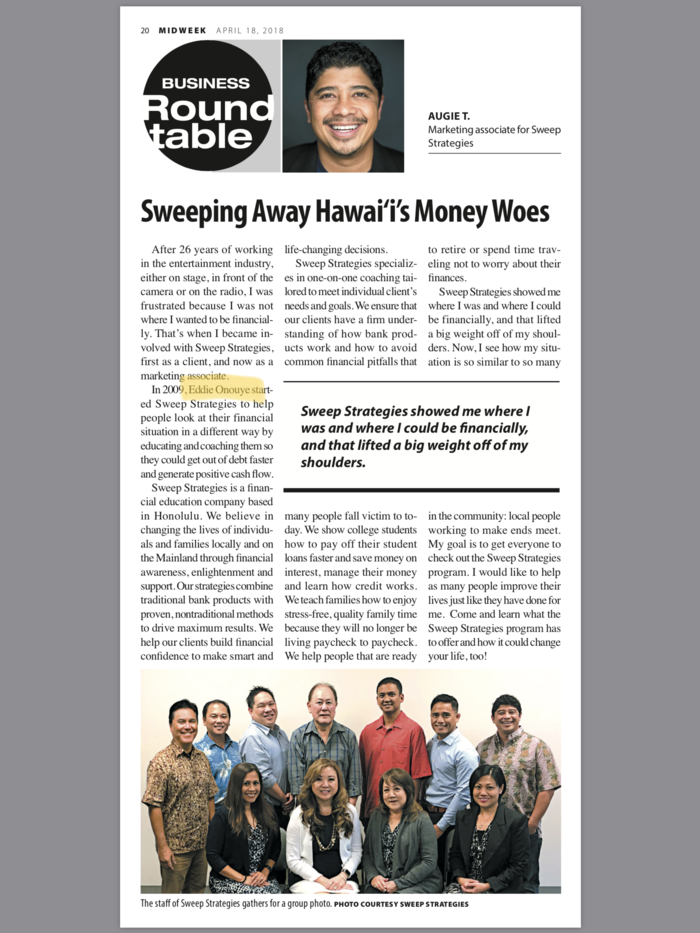 Eddie asks, if you're interested, contact him directly: (808) 295-5000
• Check out the March 28th issue of Honolulu Star Advertiser for an excellent article on Lucille & Kenneal Chun ('62) ...
http://www.everydaytaichi.org/lucys-blog/honolulu-star-advertiser-special-2018-young-at-heart-strength-in-spirit-lucille-lo-chun-by-cheryl-chee-tsutsumi
• Check out the March issue of Honolulu Magazine for a very nice article on Robynne Mai'i '02), daughter of Jenny and Alan Mai'i ('62) ...
http://www.honolulumagazine.com/Honolulu-Magazine/Style-List/March-2018/Meet-the-Inspiring-Woman-Behind-the-Dishes-That-Whisk-You-Away-at-Fte/
• Don't forget the Iolani Family Fair ... April 20-21. Our Class work shift is Saturday, April 21st, 10:30 am-4:30 pm. Stop by the Student Center and visit with the guys. Better yet, contact Walter Muraoka <whmmedarchitect@gmail.com> to LHK when you will be there to Pick Up your free T-shirt.
• E-mail from Walt Muraoka:

"...Last Friday, February 2, I attended a dinner at the Waialae Country Club that the school held to honor Eddie Hamada. It was a fund raiser for a statue that will be created in Mr. Hamada's image as well as a scholarship. The statue will be placed on Hamada Field.

I was hoping to see some classmates, but to my dismay, none were there. I did see, however, Vince Goshi and Ken Okimoto's names in the program as donors.

If I recall, those two plus the following played football under Coach Hamada from our class:
Steve Shibuya, Clifford Tokumaru, Dennis Brewster, Urban Nishiki, Dwight Kealoha, Art Koga, Billy Thomas, Lee Longacre, Mark Hanna and me. If I miss someone's name, please forgive me.

There were several speakers who talked about how Mr. Hamada touched or influenced their lives, how he invoked the "One Team" spirit.

Surprisingly, I didn't see anyone from Class of '61, like Milton Oshiro, Jimmy Miyashiro, Miles Ono. They may have been there but ....

Didn't see Class of '63 guys like Earl Hedani...Dick Kenney, Dickie Yokogawa, Walter Nagasako are gone, Lawson Wakuzawa lives on the mainland, Norman Chun is on Maui.
Ephraim Ho (someone told me was a cop in LA)

It was a very nice event.

Other happenings: some of the old apartment buildings between Date and Laau Street are demolished. The school will putting up a dormitory for international students.


Take care

Aloha to all
Walt

Sent from my iPad ..." 2/7/18
• Check out the current Iolani Bulletin - Fall/Winter 2017.
http://www.iolani.info/files/fall2017/
• Campus Expansion:
http://www.iolani.org/about/campus-expansion
http://www.staradvertiser.com/2018/01/17/hawaii-news/iolani-breaks-ground-on-new-residential-hall/
• Roland Chun is back on the golf course (with wife, Janis), after traveling and taking care of cataract surgery.
• Still on "leave": Walter Muraoka, Dave Shiraishi, Jimmy Hayakawa, Rodney Asada, Alan Maii, Get well soon, guys!
• Congratulations to John Ishikawa for finishing ANOTHER marathon race. That's over 35 marathons, and still counting. The latest being the Honolulu Marathon this past weekend.
• Have A Great Thanksgiving & Happy Holidays To All!
• Much Mahalos to John Ishikawa for renewing our subscription for this website.
• Interested in Aquaponics? Grow your own vegetables and herbs at home. Contact Kenneal Chun.
• Congratulations to Walter Muraoka on his marriage (Tamami) Dec 2016
• Check out the current Iolani Bulletin - Fall 2016. Congratulations to Walter Muraoka.
• Remember Miss (Sally) Akers? ... Check out her profile on this website
• Ever thought about learning to play the Ukulele? ... Dennis (Atlas) Ching, Retired from DOE-Hawaii and now teaches beginning Ukulele at The First Chinese Church on King Street, every Friday morning. No experience necessary..
• Interested in learning Tai Chi? ... Retired Dr.Kenneal Chun, ENT, teaches at Kilauea Park in Kaimuki along with his wife Lucille. < http://www.everydaytaichi.org/>
•Interested in orchids? ... Contact Alan Maii, Treasurer, Kaimuki Orchid Society <http://www.kaimukiorchidsociety.org/Documents/KOS%20August%20%202016%20Newsletter.pdf>
• There several avenues of communicating with Iolani Alumni:
1. <ClassNotes@iolani.org> ... Address your communique to this address, if you wish to communicate with Friends & Family of Iolani School. Your information will be published under Class Notes-1962 of the Iolani Bulletin, which is published three times a year,

2. <http://www.iolaniclassof62.com/> ... Go to this website to post your information. Only registered Users associated with the Class of 1962 will be able to view your posts. This website has been provided through the generosity of John Ishikawa, Leighton Liu and Miles Kawatachi.
3. <Colin.Leong@me.com> ... Send any/all information to this address. Your information will be distributed via be a list of 1962 Classmates with current email addresses.