April 21-22, 2017
Recent E-mail from Walt:
... Okay,
Went to the Kick-off meeting couple of nights ago. The Fair is April 21 and 22. We're on for Saturday April 22 10:30 to 5:00 in the Student Center for Inventory. Looks like the class of 64 will be doing it on Friday
Parking is at Kaimuki HS
Colin, please look at distribution list, if I missed somebody, please forward. Sorry if I did.
The theme is Road Trip USA.

If you going join the class, lemme know also with your t shirt size

Was nice to see you guys at Gordon Ito' s service. Was well attended.
Also at the St Alban's Club luncheon.
Take care. Have a great day!
Walt
Sent from my iPad ... (3/4/17)
From Walt: (4/25/17)
Well, wunadda yea of hard work and good fun at the Iolani Fair pau.

As you saw in Colin's report the da guys who wen show up was:
Colin Leong
Pat Tom
Chetta and Evie Ching
Roland Chun
Rodney Asada
Leighton Liu
David Shiraishi
Me and Tamami
and wen da hard work was pau, Paul Chun

We wen pack and separate elastic gloves for da workas in da food booths, made da mix for da waffles, and had wun gud time talking stink about da guys who nevah show.

Da kau kau was ono as usual. Had malasads, BBQ ribs, stew, chikin, shave ice, and mo'

Milt Tsuda how's you new grand baby?

If you need golf tips or how to win in Vegas call Rodney

Jimmy Hayakawa was in Japan
He going give us one report

Shiraishi going on a trip to Japan and Taiwan soon.

Colin is doing a super job taking care of class golf and keeping everybody informed

Contact Pat Tom for the weekly lunch bunch. Always so nice to see Chetta and Evie Ching as well as Roland Chun.

Lui hasn't ridden any camels lately but he smokes um once in awhile

Paul, I hope your family member is doing well.

Doc Nate, missed seeing you this year. And you too Dickie. How's da fishing? Kenneal, how come you nevah show?

Miles, hope you feeling better

Abe was probably on the road again.

You mainland guys, Alvin, Pat, Gary, Vinnie, Rolin, Sam, Michael come out once in awhile, show your okoles once in awhile. Richard Ho, how's HK?

Tamami and I just returned from Da mainland. My grand daughter #3 just celebrated her first birthday in Phoenix. We also had a great few days in Vegas.

I know I stay fo'get mention some ting or some boddy but comes wit da age.

Well, those of you dat wen show up, tanks, those of you who nevah, you wen miss some good fellowship and food. Maybe next year.

Take care

Walt


Sent from my iPhone (4/24/17)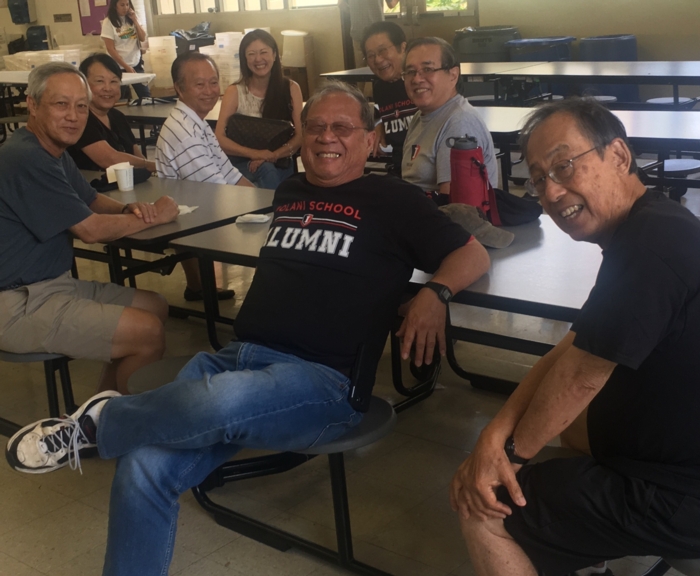 Clockwise: Roland Chun, Pat Tom, Chester & Evie Ching, Rodney Asada, Tamami & Walt Muraoka, Leighton Liu.
Missing: Dave Shiraishi, Paul Chun, Colin Leong