Patrick (Pat) F.P. Chai
September 11, 1944 to April 16, 2019
Rest In Peace
****************
Thank you for informing us, Colin. I'm so glad that I got to see Pat and Martha in Atlanta in December 2017, as already I could tell that he wasn't doing that well, so that's also why he hasn't been able to visit us in Hawai'i in a while. Although he has had a wonderful family and life in Georgia, Pat never lost his love for Hawai'i and the fun times we had while at 'Iolani. I join you in expressing condolences to his family, and sincerely hope that he can now truly Rest In Peace.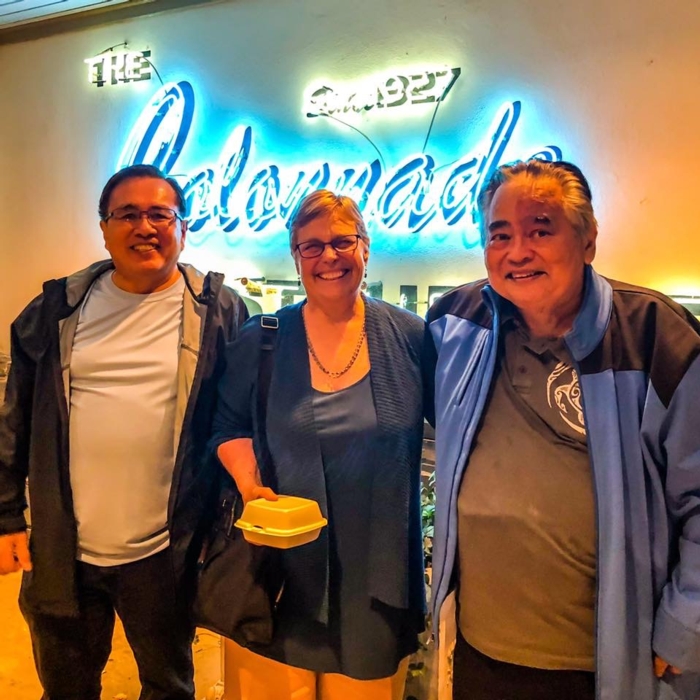 Leighton (Liu) 4/16/19
Sent from my iPhone (4/16/19)
*********************
That is sad. Condolences to Audrey, and Gerry. Liu.
Was planning a trip to Atlanta next month to see our daughter in Atlanta, and to try to see Pat. Sadly that won't happen now.

from Rolin's (Soong) iPad (4/17/19)
*********************
Very sad to hear. May he rest in peace.
(Richard Ho, 4/17/19)
*********************
OBITUARY
Patrick 'Pat' F.P. Chai
SEPTEMBER 11, 1944 – APRIL 16, 2019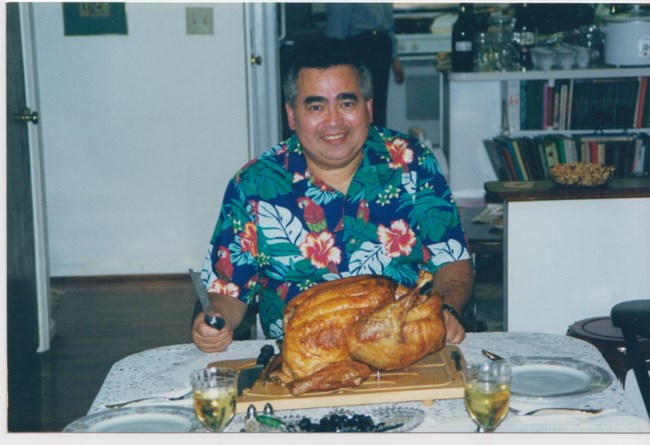 Mr. Patrick 'Pat' F.P. Chai, age 74, of Roswell, Georgia, passed away on Tuesday, April 16, 2019. Pat was born on September 11, 1944 in Honolulu, Hawaii, son to Harry Kim Sung Chai and Sarah Liu Chai. With a joke always on hand, a laugh that could brighten any room, and a 'larger than life' personality, Pat left his own amazingly unique stamp on this world. He was born and raised in Honolulu, Hawaii with his three older sisters and extended family. Following high school, Pat attended Oregon State University and would eventually receive a master's degree. His early career was spent as a science teacher and later transitioned into the field of insurance. Pat retired as a Life Insurance Consultant with AXA Financial after a long successful career. When Pat wasn't working he could easily be found preparing his favorite dishes for a Chai Family Luau. He loved traveling the world and snapping pictures of all that he saw; whether from the top of the Eiffel Tower, the battlements on the Great Wall of China, the ruins of Angkor Wat, or simply the grandkids playing in the yard. At the reunions of the AXA retirees group it was such a joy for him to show slide shows of his photos of past reunions set to music. Pat was full of laughter, 'instructive' opinions, and an infectious desire to have a good time. Most importantly Pat was full of love for his family and friends. He was a wonderful partner, father, grandfather (Goong Goong), and friend; he will certainly be missed by all who knew and loved him. Along with his parents, Pat is preceded in death by his three sisters, Elizabeth Joseph, Beulah Wong, and Beatrice Kop Lum. He is survived by his partner, Martha Alm; three children, Catherine 'Cathi' Chai, of Alpharetta, GA, Michael Chai, wife Sheryl, of Cleveland, TN, Sara Jeschien of Fresno, CA; step-daughter Mona Alm of Los Angeles, CA; six grandchildren, Michael Jeschien, Alexandrine Jeschien, Eve Jeschien, Faith Alm-Clark, Grace Alm-Clark, and Christian Chai; and several nieces, nephews, extended family members and friends. A Celebration of Life Luau will be held from two o'clock in the afternoon until four on Monday, April 22, 2019 at Roswell Funeral Home. To properly celebrate Pat, please arrive in fitting Hawaiian Luau attire. The Celebration of Life services for Mr. Patrick 'Pat' F.P. Chai have been entrusted to the care of Roswell Funeral Home, 950 Mansell Road Roswell, Georgia 30076.
https://www.dignitymemorial.com/obituaries/roswell-ga/patrick-pat-chai-8252873
(From Facebook-Cathi Chai, 4/18/10)
*********************
Pat....I will miss you. You had so much class and was fun to be with. Friends and Aloha......Randy (Abe).........
4/18/19
*********************
So sorry to hear the sad news. I looked him up in the year book and he looks somewhat the same. I pray he and Stan are having a great time catching up at the luau in heaven.

Sent from my iPhone (Sandy Miyashiro) 4/18/19
*************************
Here are some photos that Cathi Chai sent me today. Her sister Sara also posted some photos from today's service on Pat's FB page. It appears that he had a great send-off because he was remembered in a way that he would have liked.

Lui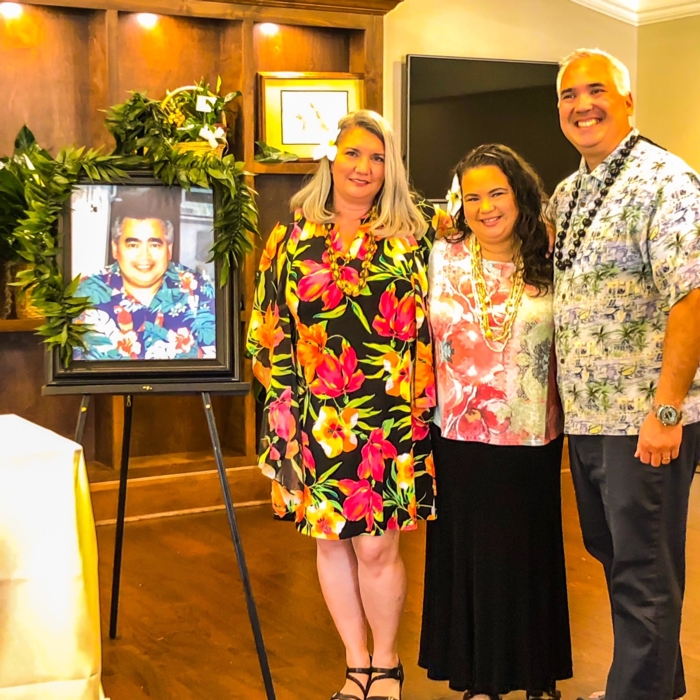 Pat's three children: Cathi, Sara and Michael


This is the flower arrangement that I had ordered. For some reason, the ribbon I had asked for was missing, but in Cathi's words, "Everyone was impressed and touched that his high school mates sent flowers." It also was used as the centerpiece for the family's table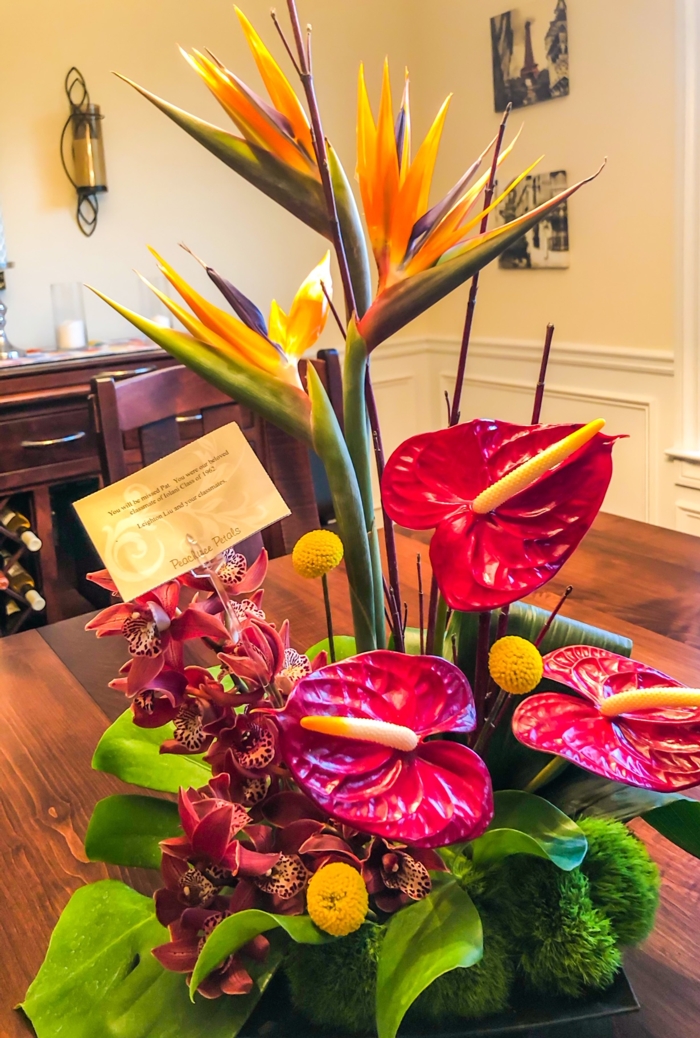 Pat's family with his ashes and photo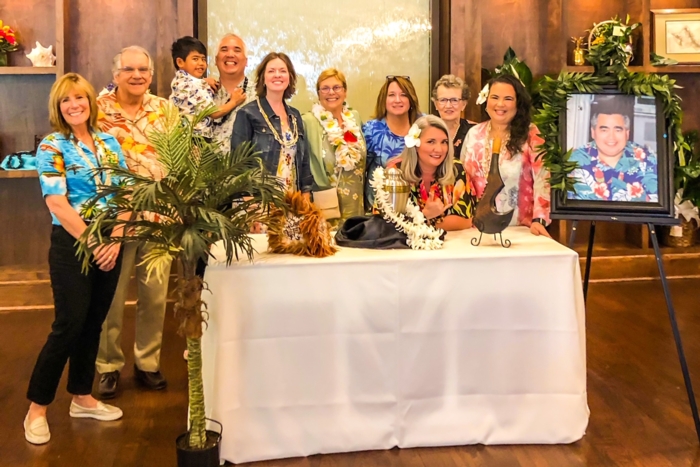 Some of Pat's favorite things were on display.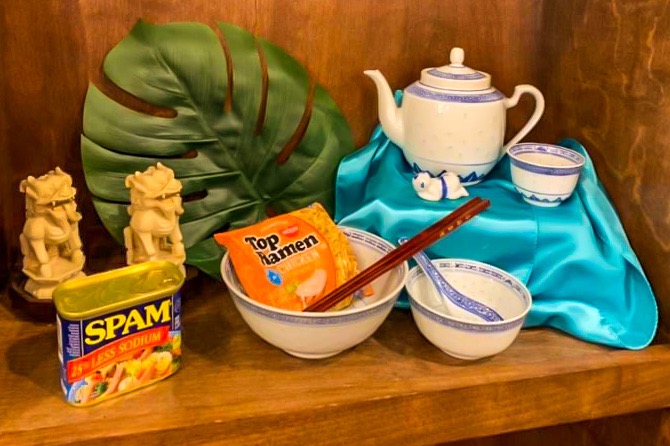 Martha, Pat's partner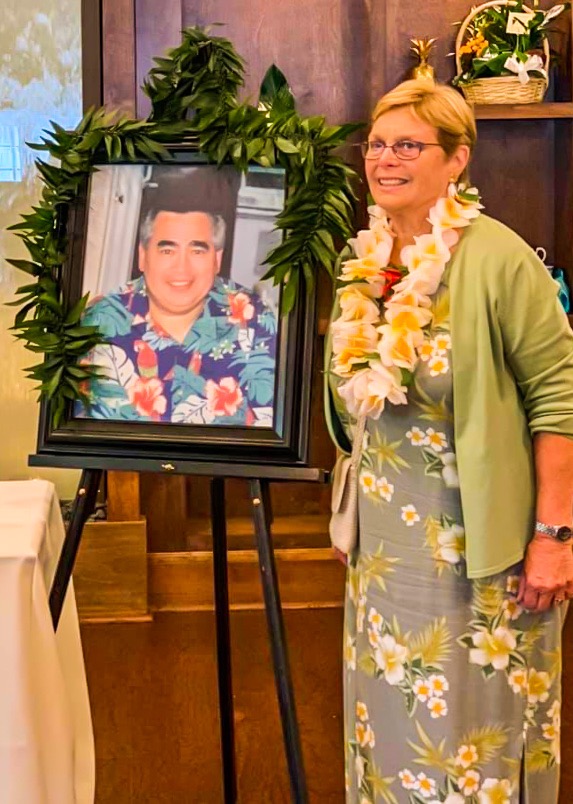 Sent from my iPhone (Leighton 4/23/19)