Gordon Ito
July 12, 1944 - Feb. 3, 2017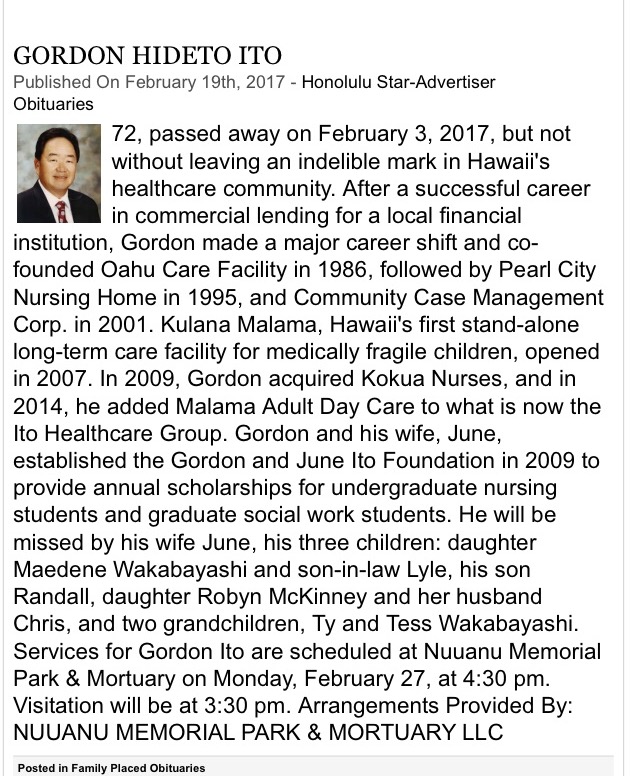 Vince Goshi:
Attached is a photo taken in my home around the mid-90's with Gordon, John, Milt. They came to LA to visit and we played at least 2 rounds of golf. I think the last time I saw Gordon was in Hawaii when we visited his Pearl City Nursing home. He was one of my closest friends in high school. Cliff, Wayne, and I often spent time at Gordon's home in Palolo. Gordon's dad would sit on a wood stool working on the yard listening to the Islander's game. His mom would serve us food and stuff. Good memories... 2/7/17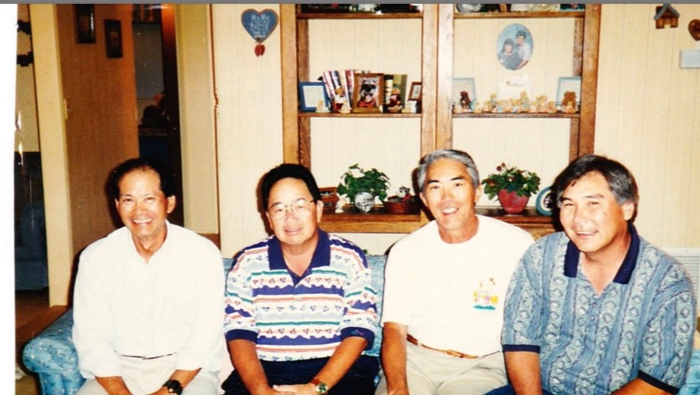 Randall Abe:
Thanks Pat...thanks Jimmy.....Leighton.....Many years ago, I called Ito on a Saturday re my dad and by Monday dad was in his care home. He was there for almost (3) years before he passed. After high school he willed his 1948 Chevy to me which I then proceeded to blow a piston coming back from a UH class. I was experimenting with small doses of "nitro" in my garage and this what happens with stock cast pistons. But I put in a donated 1957 (6) cylinder engine and ran that combo for a while before junking the car. Many memories of that car and Ito in the school parking lot. He even let me borrow one of his fancy "drapes" on a date once. After his heart surgery he lost a lot of weight and was looking good. He will always be my friend and I will miss him!!!!!!!!!..........Randy............2/7/17
Leighton Liu;
Dear Randy,

Thanks for mentioning the infamous 1948 Chevy, as it's impossible to think of Gordon without seeing images of that unique car, which ran really well and had a distinctive sense of class, just as Gordon did. Not having access to a car until our senior year, I had to depend on Gordon to graciously volunteer to drive me all the way home to Kuliouou when I needed a ride, along with Pat Tom, Jon Kaneshiro, Kearney Hung and other drivers. I didn't realize that Gordon had willed you his car after high school, but that certainly was appropriate, given your love of cars. And speaking of "drapes," we all remember wearing them, but I don't recall seeing any choice photos of us dressed in this curious local fashion trend from the '60s (if anyone has such photos, please share them with us!).

My dad had stayed at the Pearl City Nursing Home for several months, but it's amazing that your dad was there for almost 3 years! Was he at Pearl City or the Oahu Care facility in town? I remember checking out several care facilities back then, but we chose Pearl City because it was the nicest and it seemed to have the best skilled nursing care and physical therapy available. Gordon's vision and leadership in the field of elderly health care put him at the cutting edge among such facilities in Hawaii. Anyway, thank you for sharing your memories of Gordon, for he was the epitome of what anyone would define as an all-time "good guy" whom we all shall miss.

Aloha,
Leighton ...2/7/17

Leighton Liu 2:
Pat, thanks for sharing the sad news of our classmate, Gordon Ito's passing.
I really regret not seeing Gordon in a very long time, as I credit him with having been a major factor in helping our class to grow stronger and closer over the years. It was through his vision, caring and generosity that we finally got organized and managed to stage our 50th birthday celebration/reunion in Las Vegas over two decades ago, which was a really big step for us. I will always cherish the many planning meetings that we had at his Beretania Street office, which usually turned into non-stop laughing, eating and drinking sessions. He also allowed me to use his audio equipment to make the soundtrack for the slideshow I did for that reunion. Years later, I appreciated his kind support as my dad spent his last weeks in the Pearl City Nursing Home. Always keeping a low profile behind the scenes, he has been an unselfish and strong supporter of both 'Iolani and our class in particular.
Rest in peace, Gordon. You are a good man, and we shall miss you.
Leighton ... 2/7/17

Nate Wong:
Thanks, Pat.
I haven't had the pleasure of Gordon's company for many years, but what I remember and can still see and feel is his smile and the good and positive feeling that went from him to those around him. From what I understand from others, that did not change over the years. And what Gordon has given back to the community through his care for the elderly and infirm is immeasurable. A really good man.
Nate ... 2/7/17

Kenneal Chun:
Thanks Pat for relaying the news of Gordon's passing. It is always sad to hear such news and it reminds us that time is passing and that we all should be diligent in valuing and enjoying the company of friends and family, doing what we like to do with what time we have left .
Aloha,
Ken ... 2/7/17
Joe Davis:
Waimaka o ka lani...it was raining here this morning and now the sun is shinning...to the Ito family, aloha and my condolences. Joe ... 2/7/17

Rolin Soong:
Condolences to his family.. We are all at 'that stage in life'. Enjoy life now. Aloha to all. ...2/7/17

Wayne Tani:
Gordon's passing really came as a surprise and I'm sure it jolted many of you to hear of his passing. Vinnie's thoughts also jolted my memories and made me sad to think that we did not take the time to share them again when we could have. Gordon was always like a solid foundation to me. He helped push me on to finish college, plan my wedding and buy my first home. Major decisions in my life. I remember sitting around his house too, Vinnie and it did help to have such a good friend. I remember that car of his that some of us learned to drive with and it had that vacuum shift. Fun memories. It is unfortunate that we lost contact with each other over the years. I really believe that Gordon was one of those people that made life better for so many others. God bless him wt ... 2/7/17

Dickie Lau:
Quiet, kind, generous, provided a much needed and valued service to the community, and created an Ito Family Foundation to continue to give back to the community long after his passing....what more good things can we say about a good man? A lot, but too bad we did not share those thoughts with him at a lunch or at a reunion gathering. The last time I saw Gordon, he was sitting outside Mariposa Restaurant in Neiman Marcus. He was hosting a lunch for one of his employees and told me he often bought gifts for his employees at Neiman Marcus. He was the kind of boss anyone would love to work hard for. Aloha, Gordon, all of your friends at Iolani deeply respect and will miss you.

And Aloha, Iolani friends, we need to get together often and say nice, but true, things to each other before it's too late.
Dick ... 2/7/17
Bill Farrel:
I am sorry to hear of Gordon's passing. But your tributes to him are wonderful and he will live on in your hearts. Having one's friends think well and remember is about as good as it gets for any of us.

Bill Farrel ... 2/9/17
Walter Muraoka:
All is have fond memories of Gordon. He was a special friend to all of us.
I had the special privilege to be his roommate while we were at Oregon State. We enjoyed many moments talking, laughing, eating, drinking....
He was a smart guy, but at that time, a bit "lazy", consequently did not make it through OSU and transferred to Southern Oregon. Fortunately, he "saw the light" and finished. He later returned home, worked for a bank and became a successful businessman.
As many of you pointed out, he was warm, kind, generous, and most of all, a special friend. I'm sure many of you also remember his parents, father, Shuichi. How friendly, kind and generous they were. He and laughed about how his father's name related to his business, owning a shoe store.
He was a rascal as well. Our dorm room was on the first floor, next to where these guys would park their motorbikes and every morning would rev up and wake us up with the noise and exhaust smell. We decided to do something about it. One night we sprayed shaving cream all over the motor bikes and plugged the exhaust with a potato. The next morning we heard cussing and cracked up laughing.
Gordo, you lived a full rich life. I'm glad that I was able to share a small part of it.
As some of you pointed out, the clocks ticking, enjoy each day, smile and laugh. Yesterday is gone, tomorrow may not come. Enjoy today, enjoy the moment.
Aloha, Gordo,
"Wally"
Sent from my iPad ... 2/9/17