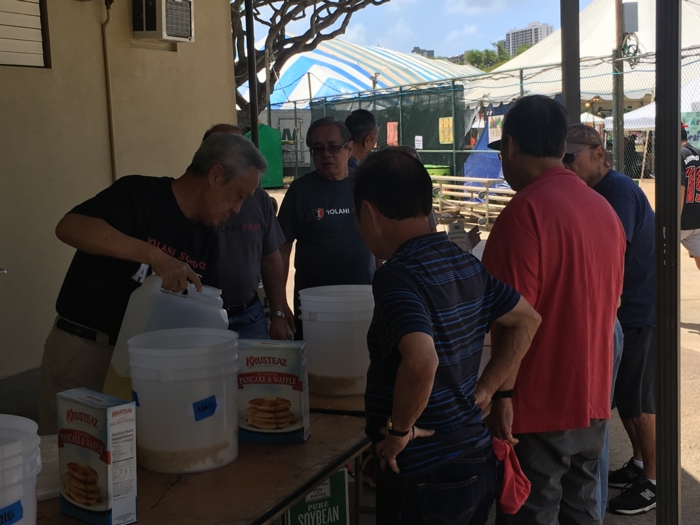 Family Fair-2019
On Saturday, April 13th, at about 10:30 am, (13) able and willing iolani62 classmates, gathered at the Student Union Center on campus, to receive their assignment(s) for their participation in the Iolani Fair-2019.
The first chore was to open a box of 100 disposable gloves and segregate the contents into 10 zip-loc bags ... each containing 5 pairs . The zip-loc bags are distributed to those working in food booths throughout the Fair. This essential function provides for food sanitation as well as controlling excessive waste of gloves.
Next, the "team" was split-up to perform the function of creating batter for the Waffle Hot Dog booth. Two boxes of Krusteaz Pancake Mix were combined with water and cooking oil ... in a 3-gallon bucket. Then mixed well with a whisk. Buckets of the ready-to use batter were stored in the kitchen cooler for later use.
By this time, it was time for lunch. (Hah). The most popular choice was hamburger. Philly Cheese Steak was next. There was Malasadas (regular & poi) for everyone, thanks to Chetta and Evie.
Following lunch, there was much dialogue about "getting-old", personal medical issues and travel destinations.
By 2pm, most were ready for their afternoon nap (really) and began dispersing.
Much Mahalos to: Randy Abe ('62), Rodney Asada ('62), Janis & Roland Chun ('62), Evie & Chetta Ching ('62), Miles Kawatachi ('62), Dickie Lau ('62), Colin Leong ('62), Leighton Liu ('62), Pat Tom ('62), Dave Shiraishi ('62) and Nate Wong ('62) for representing the Class of '62 and working laboriously to support this years Iolani Fair.
Hope to see everyone again NEXT year!