Mike Miyamoto writes:
"...After Iolani, I received a BA ('66) and PhD ('71) in Biol. Sci. from Northwestern. Was an Instructor of Pharmacology ('70-'72) at Rutgers Med. Sch. (now R.W. Johnson Med. Sch.), Asst. Prof. (Pharm) at Univ. Conn. Health Ctr. ('72-'78), Assoc. Prof. & Prof. (Pharm) at E. Tenn. St. Univ. Quillen Col. Med. ('78-'07). Served on Nat'l. Board of Med. Examiners, writing questions for USMLE (med. licensing exam) ('05-'09). Am currently Pres. of ETSU Retirees Assn. (380+ paid members). Wife Janis retired from Amer. Air. in '09. Daughter Julie (ETSU, Comp. Graphics, '00) works for Tata Corp. in MD; son Scott (UT, Chem. Engg. '14) works for Cargill in TX. Between doctors' appointments, we like to travel. Recently adopted 2 cats who showed up at our house, which puts a cramp in our travel plans. Also volunteer thru our church and the retirees assn. Doing own yard & house work to keep the blood flowing to the brain (what's left of it).
BTW, we are not in the wildfire zone. Gatlinburg TN is about 100 miles away, close to Knoxville. Also (for racing fanatics), we'll probably be driving my '04 Buick around the Bristol Motor Speedway track ("World's Fastest Half-Mile") again this Christmas.
It was great to see everyone at Asia Manoa. Many thanks for lunch--we should pay next time, otherwise, makes us feel like parasites! Auwe!
Mike..."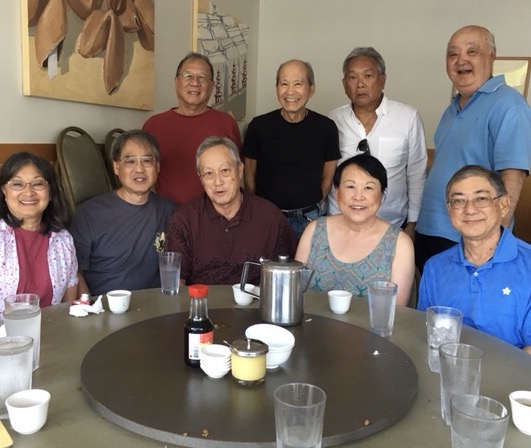 Front Row: Janis & Mike Miyamoto, Chester & Evie Ching, Jimmy Hayakawa
Back Row: Pat Tom, John Ishikawa, Colin Leong, Mark Kaneshiro 11/17/16