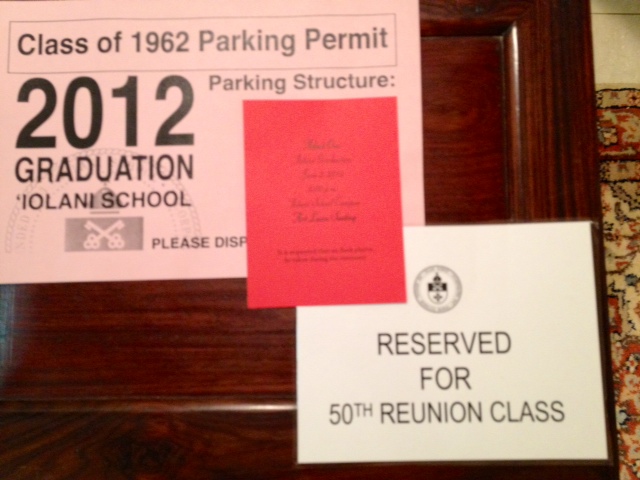 Armed with parking passes to the parking structure and reserved seats adjacent to the faculty and graduates, fifteen classmates, with Brett Tanaka seating in for Alfred, seven spouses, and Alfred's mom thoroughly enjoyed the 'Iolani 2012 Commencement excercises.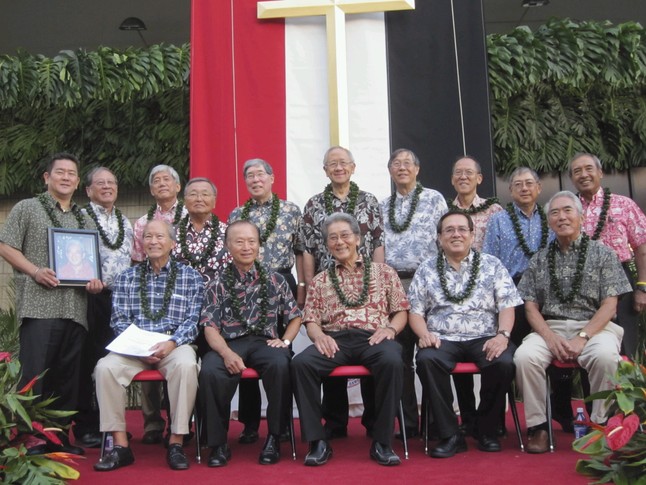 Notably, we proudly sang "Thy sons arise and with proud hearts salute thee" but it wasn't loud enough for many to hear or understand the significance, except our hostess, Director of Alumni Relations, Kira Tamashiro. All were so impressed with the calibre of the graduates and equally proud of both the sons and daughters of the Class of 2012.
The early arrivals getting ready to check the group in.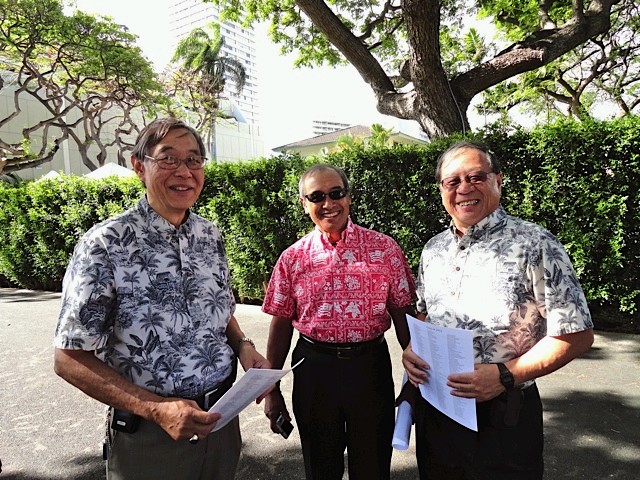 Conroy and Pat with official Iolani shirts, that will be replaced this fall with the 150th Anniversary edition and Alan with his Reyn's shirt that is being made by Reyn's in a red floral print.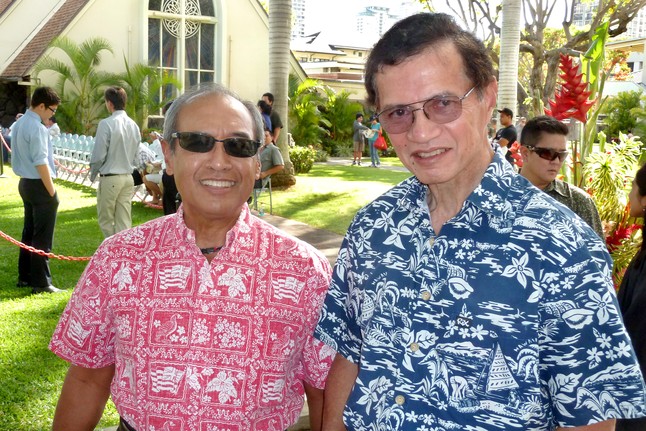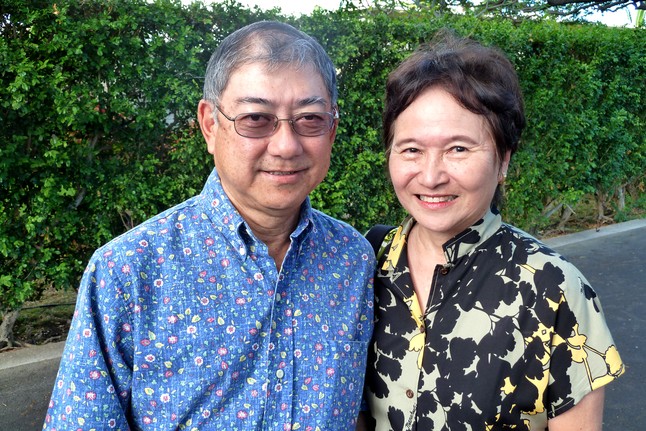 Alan and Dwight Jimmy and Pat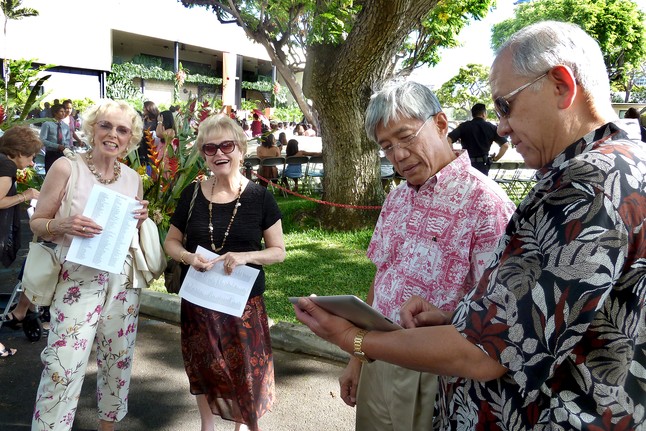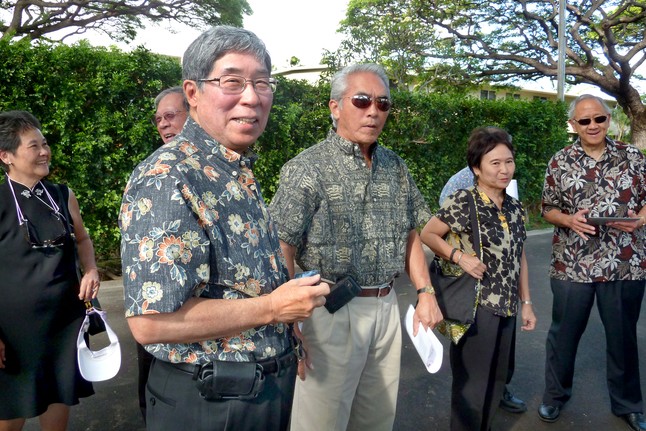 Linda, Dicki, and Al showing Nate pics on his iPad Sam and Milt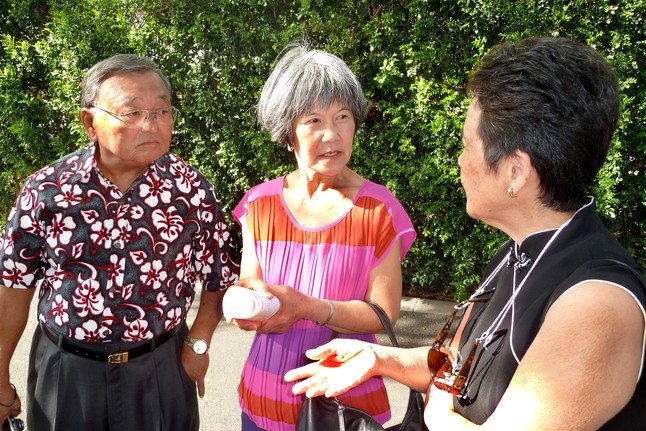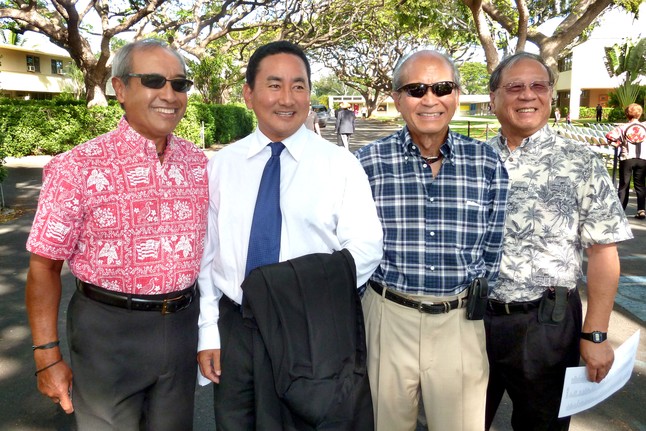 Miles, Myrna and Lucille Chris keeping tabs on us . . .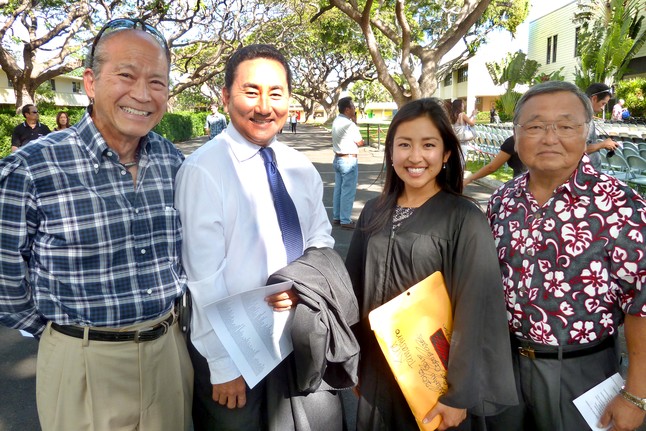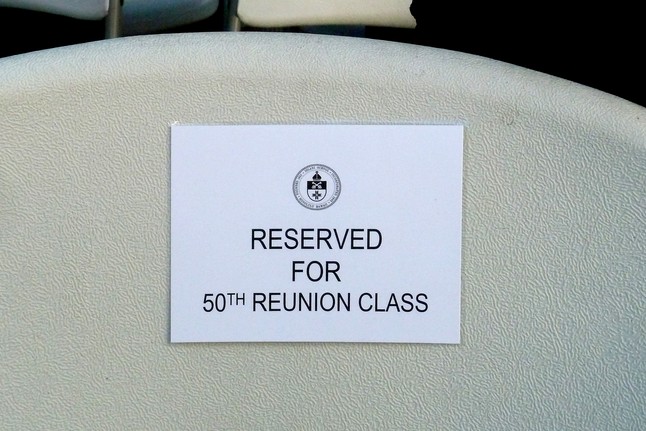 and the back room planners then on to our seats.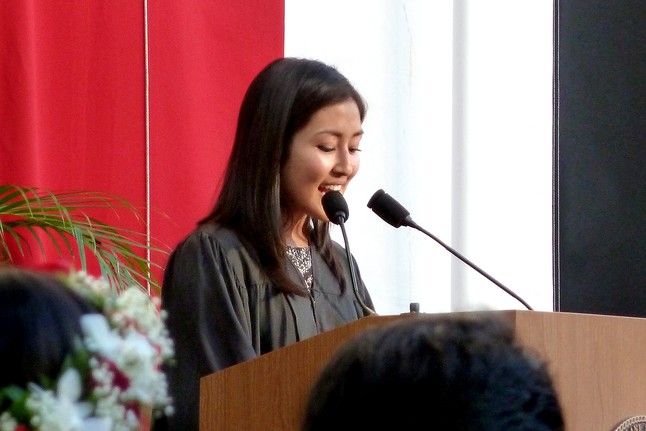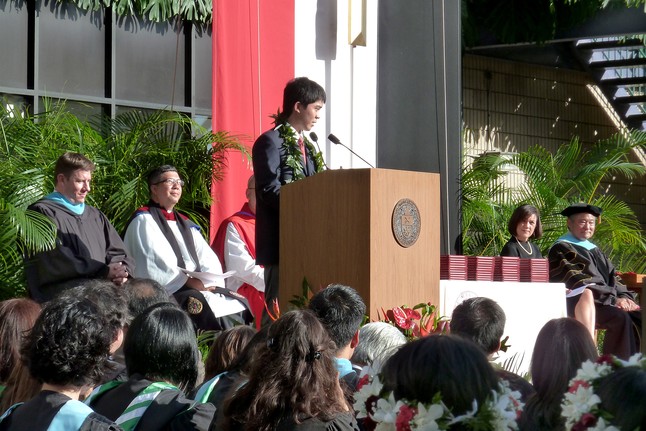 "Cole Hi'ia i ka hana mau 'ia e ka makani anu Ka-la'i-akea Tanigawa-Lau" . . . Cum Laude. And Kira announced the graduate's name from memory faster than we could read it, but ran out of breath to say "Cum Laude". Our view of Salutation by Class President Steven James Si-Jun Yee.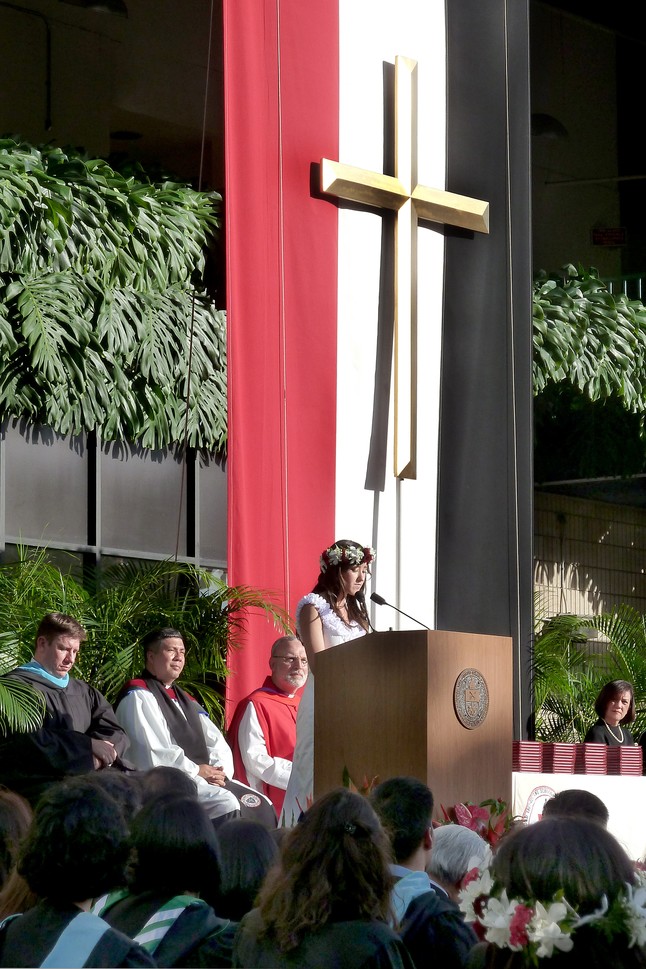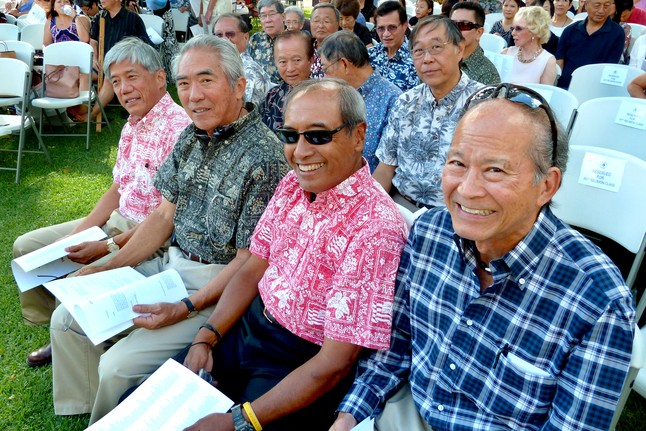 Our view of Valedictorian, Kirsten Mari Peterson. The front row.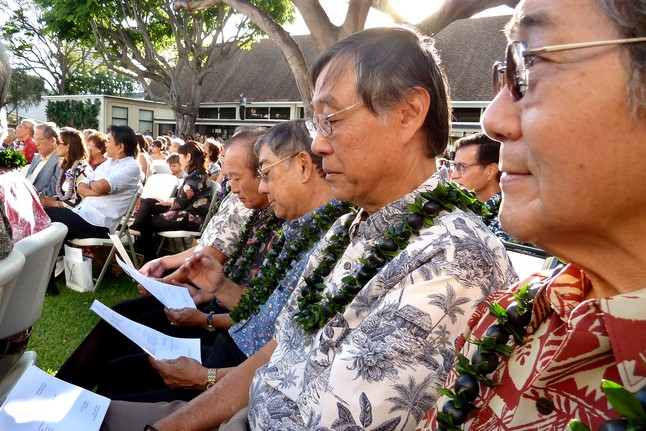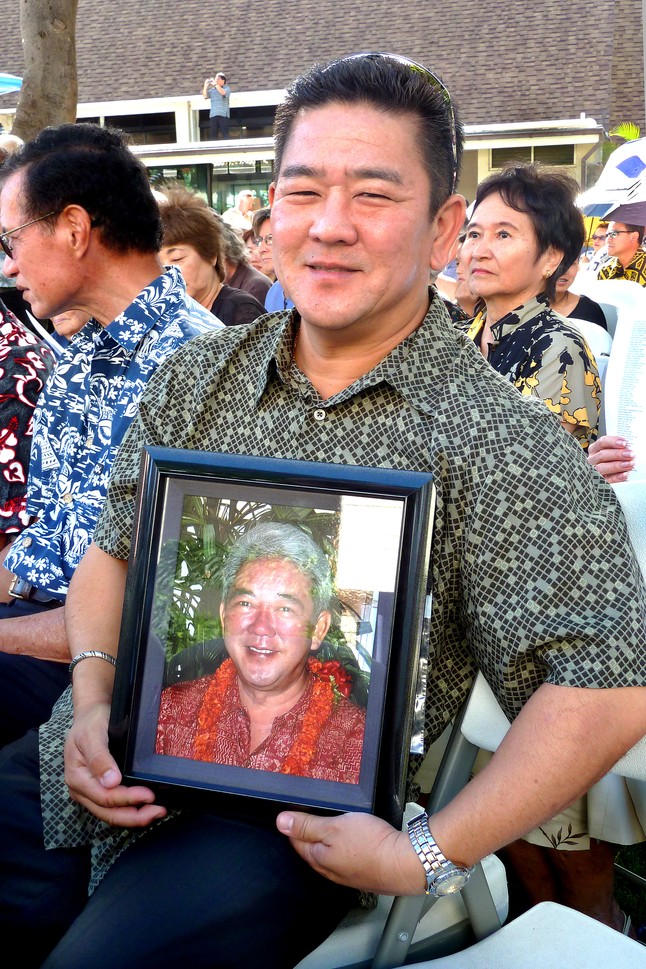 Second row studying the words to the Alma Mater. Brett sitting in for his dad.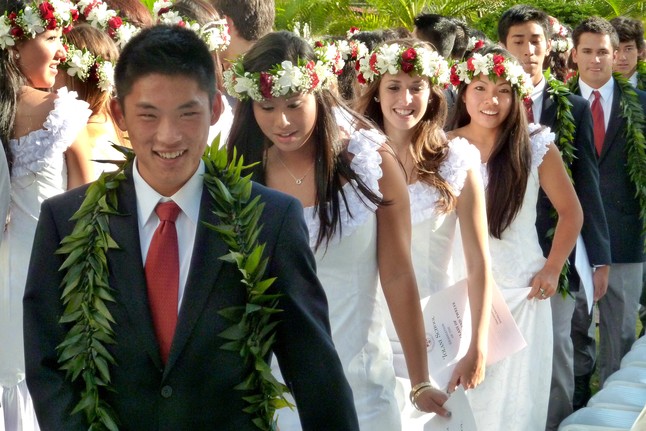 Great improvement over our white tux and sisters.
Following the Commencement excercise, Al Chong wanted Dicki, with her digital and iPad cameras, to get a picture of him on the stage. That led to a possible, new tradition of the honored class taking the official class picture on stage (in the past, as they will on Monday, the 50th Anniversary class picture is taken at the Headmaster's luncheon). But since we had Sterling, the official photographer for the school taking pictures, his may be the one that will appear in the next 'Iolani Bulletin. The following picture was taken by Lucille Chun.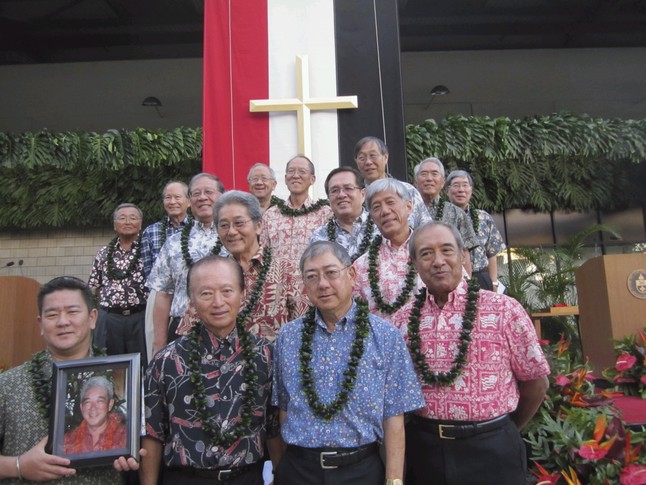 Off to the Headmasters for a reception with Faculty and Administration.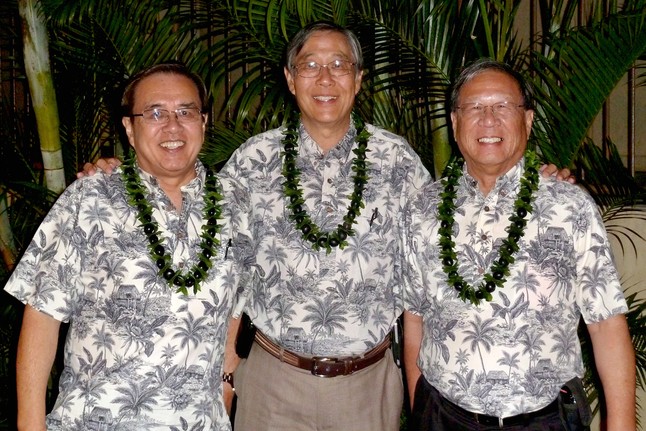 The three amigos in an official school shirt.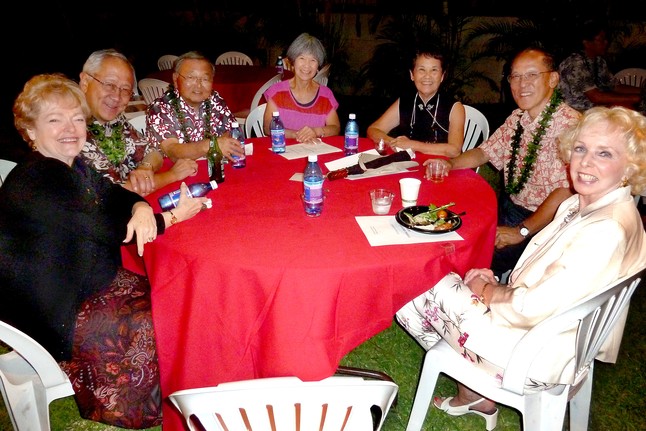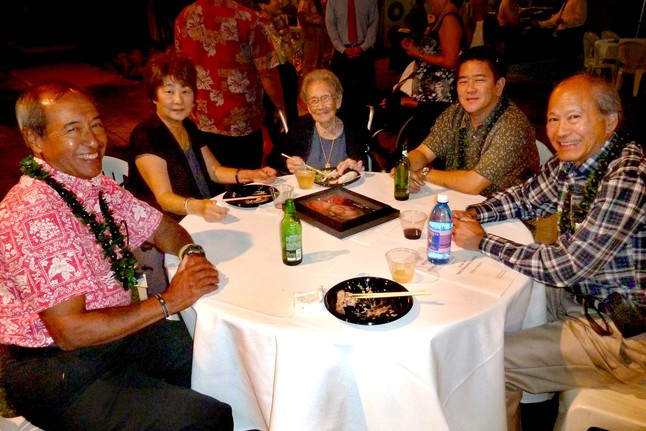 Picture of out of towners taken by Sam. Alan, the Tanakas and John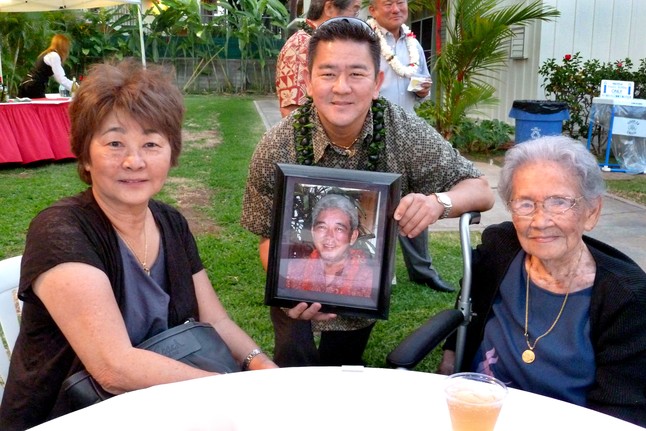 The Tanakas
AND GO HERE for additional picutres . . .