FOR CURRENT POSTINGS, CLICK ON "Latest Happenings", ANNOUNCEMENTS and "Upcoming Events"
Despite the tumultuous, uncertain times we all find ourselves in, we are reminded that we have much to be thankful for. Without exception, our resilience was shown in the fun-filled time we spent together on Monday, November 23, 2020.
A must, if not anything else, please listen to Nate's benediction closing.
(uTube link is being prepared Nov 26th)
2020 THANKS
for the MEMORIES
a ZOOM meeting
November 23, 2020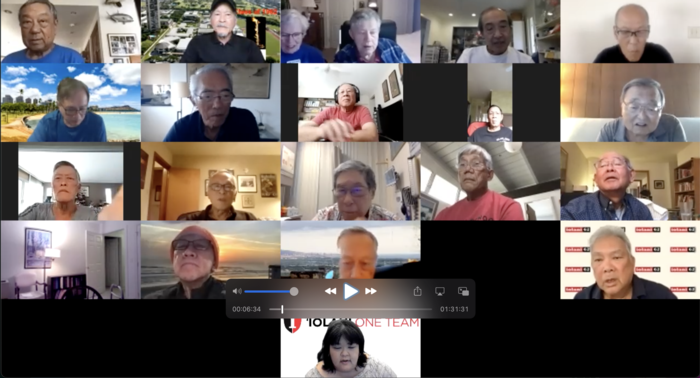 WELCOME
ATTENDEES
(click on names to access selected audio – IN PROCESS)
Alan Maii Mile Kawatachi
Alvin Chong Milt Tsuda
Chester Ching (M) Nathan Wong (Benediction)
Cliff Tokumaru Pat Tom
Colin Leong Paul Chun
Conroy Chow (M-no video) Richard Ho (email regrets)
David Shiraishi Richard Lau
Edward Asato (email) Richard Lim
Gary Oshiro (M) Roland Chun (no video)
Jimmy Hayakawa (no video) Rolin Soong
John Ishikawa Sam Mayeda
Kenneal Chun (M) Walter Muraoka (M)
Leighton Liu (M) Bob Mollison, Band, Choir
Director
Melvin Ho (email) Reed Taylor, English,
Denis Lau Sr Class Advisor
Benediction
********************
ORIGINAL HOME PAGE - our legacy; now in 2020, 58 years ago
December 26, 2013
A tumultuous 2013 indeed! And a "wake up call" when on November 29th (2013 Black Friday) we learn of the passing of our two classmates, Stan Miyashiro and John Ozaki. But life goes on and so must we all. New postings can be found in TABs IN MEMORY for Stan and John and Post-2012 Pages. Feel free to also add and post your individual comments where appropriate, including "what the Burning of the 'I' has meant to you since its initial inflamation 52 years ago".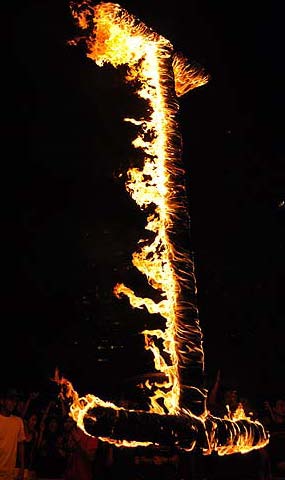 The significance of the Iolani Burning 'I', originated by the Class of 1962, has a message to us as we reflect on the events of 2013 and transition to our 7th decade. In the words of the Rev. Daniel Leatherman, Iolani Chaplain, we, too, can grasp the moment, "Tonight is a time to live more than any other, the Spirit of 'Iolani". The following is from IOLANI NEWS (www.iolani.org) ; it could have been addressed to the Class of 1962 today and have a message as it did to the Class of 2012 in October 2011.
HOMECOMING: Burning of the 'I'
October 28, 2011 - On the final night of Homecoming 2011, hundreds gathered in the Center Courtyard to observe the Burning of the "I." After the Class of 2012 met in St. Alban's Chapel, eight members of the 'Iolani community had the honor of lighting the "I."
The following is Rev. Daniel Leatherman's message to the Class of 2012, moments before the Burning of the "I" on Oct. 28, 2011.
The Burning of the "I." Back in the fall of 1961, the Class of 1962 began an 'Iolani tradition. Tonight, marks the 50th anniversary of that event. We gather once again for this event that brings to a close Homecoming Week.
It's hard to understand why we would consider taking this symbol of our beloved institution, an iconic letter "I," dowse it with kerosene, light it on fire and then join arm in arm as we watch it burn to charred ashes while we sing a hymn devoted to the very institution this symbol has come to represent.
And when you described it that way, it does seem a little silly. But is that what we really do? Every year at Homecoming, I continue to reflect on the meaning of this event. On its deeper implications for you as the Class of 2012, for alumni who over the past 50 years have carried on this tradition, for faculty and staff and for us as an entire 'Iolani 'Ohana. Of how this tradition of nearly a half-century was almost lost in 2010 amid division and strife, where it was better to not have this event at all, if it was the catalyst that divided the class rather than drawing it together. Of how this tradition was saved by that very same class who, though not without controversy, petitioned to have it remain knowing that it meant dramatic changes.
And change it did. But the reality is that change is an inevitable part of life. In speaking of the Burning of the "I," 50 years ago, 40 years, 30 years, half of you would not have been here. In fact not until 1997, would women stand in the circle to light the flame. Now, we have expanded our campus are preparing to build a new building. We are moving forward into the future. We grow up. We move on. Such is the ebb and flow of life.
I have no doubt that this ritual marks, in some way, the culmination of your years here at 'Iolani.
We do not gather this evening just for the sake of tradition, though traditions can ground us and remind us of where we have been and how far we have come as a community and how far you've come as a class. We gather this night because this event, is bigger than any one person, any one class. That is certainly made true by the representation we have here from alumni, Lower School, Upper School and of course your class.
Fire not only burns it purifies, when ore is heated and melted the pure elements can be extracted. More than that fire is an ancient symbol. Some think of it as a living entity. We stare into the flames of a candle or campfire lost in its hypnotic trance. It stands as a symbol of the Holy Spirit that descended like tongues of fire upon the apostles. In the ancient Temple the smoke and flames are thought to carry the offerings and prayers to heaven, to God.
With the Burning of the "I" goes a prayer. As the flames ascend, our prayer is one of unity, that we live well into the very blessings God has bestowed upon us; for the friendships that weave their mystic strands and the fellowships that time shall not defy. The "I" not a symbol of the me, myself and I, "I." The "I" at the heart of 'Iolani is a symbol of who we are as a whole. The "I" burns that it might be a symbol of light in the midst of a broken world. It is not just you who gather out there. Your family, your friends, underclassmen, Lower School students, even my young daughter, who has been waiting for this night for weeks. All of us, and many more who join us in spirit from places near and far.
Tonight is a time to celebrate the journey you have been through thus far and the journey that awaits you.
Tonight is a time to symbolize the best of who we are.
Tonight is a time to gather hand in hand, arm in arm and sing.
Tonight is a time to bring forth the light to drive away darkness.
Tonight is a time to remember. And rejoice.
Tonight is a time to live more than any other, the Spirit of 'Iolani.
And tonight, that time is now.
Our heartfelt thanks to Rev. Daniel Leatherman for his insightful and touching words.